MAKING ICE CREAM WITH DISTINCTION
At Chester Springs Creamery, we believe the quality of product and service are our highest priorities. Our Creamery business opened in May 2001 as a natural extension of the Milky Way Farm dairy operation, which has been owned and operated by our family since 1902. The ice cream you enjoy here at Chester Springs Creamery is made using the milk from our own dairy herd. We offer more than 48 "moolicious" flavors, each named for a cow in our herd. Come visit us and enjoy a delicious ice cream cone, sundae, or milkshake. Feel free to walk about the Springhouse area, experiencing the genuineness of our farm and visiting animals in their spring/summer/fall habitats. Take home our distinctive ice cream in quarts or pints to savor the memories later. Prepackaged quarts and pints are available in our self-service display freezer. We have created food allergy protocols to provide a safe ice cream experience for all to enjoy, no matter the food allergen. Lactose-free and sugar-free flavors are also available. Ask the server for more detailed information and a description of our allergy scooping procedures.
Creamery Application is open for 15 years and older.
Now accepting Visa, Discover and MasterCard for most purchases.
Current Seasonal Counter Service Hours - Pumpkin Harvest Hours

Summer

- Tuesday-Sunday 1-9pm

Spring

- Weekends 1-9pm

Pumpkin Season Hours of Operation:

Friday 1-8pm, Saturday and Sunday 11-8pm
In addition to our seasonal counter service, Chester Springs Creamery offers several special programs highlighted below.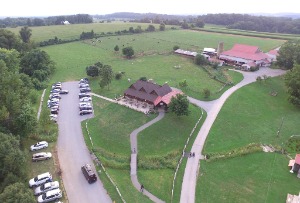 Directions: Check our map below and visit our Directions page for more specific details.
Address: 521 E Uwchlan Ave, Chester Springs, PA 19425, (610) 363-8500
All of our ice creams are manufactured and packaged on-site at Chester Springs Creamery. Our sugar-based ice cream is premium grade and homemade. We also offer sugar-free vanilla and sorbet. Kindly remember that some flavors are seasonal and not always available.
Our "moolicious" ice cream flavors are named after our cows, the source of wholesomeness.
"Our cows, our milk...your favorite premium homemade ice cream."
Bessie's Black Raspberry
Katie's Cookie Dough Chip
Blossom's Butter Pecan
Molly's Mint Chocolate Chip
Claire's Cookies n' Cream
Duchess's Chocolate Supreme
Classic's Rich Coffee
Summer's Sweet Strawberry
Milky Way Vanilla
Joy's Peanut Butter Fudge
Caramel's Dulce de Leche
Polly's Pumpkin Pie (Fall)
Melody's Mocha Chip
Abby's Apple Cinnamon (Fall)
Geneva's Chocolate
Rosita's Rose Petal
Pieta's Passionfruit Pannacotta
Peggy's Peachy Keen (Late July)
Miss Marple's Maple Walnut (Spring/Fall)
Lilly's Lemon Sorbet (Summer)
Tara's Tiramisu
Ruby's Raspberry Sorbet (Fall)
Vicki's Vanilla Fudge Ripple
Carly's Bordeaux Cherry
Bea's Banana Chocolate Chunk
Ginger's Chai Tea
Jingle's Peppermint Stick (Summer/Fall)
Roxanne's Rocky Road
Cleo's Coconut
Trudy's Raspberry Truffle
Belle's Blueberry Cheesecake (Summer)
Opal's Orange Pineapple
Flora's Lavender Cream
Cara's Salted Caramel Brownie
Robin's Cinnamon Ribbon
Sammi's Smores (Summer)
Snicker's Heavenly Sundae (Spring)
Stella's Strawberry Cheesecake
Margarita's Lime Sorbet (Summer)
Christy's Sugar-Free Chocolate Fudge
Priscilla's Pistachio
Beau's Brownie Bliss
Lea's Lemon Sugar Cookie
Reba's Raspberry Lemonade Sorbet (Summer)
Rosie's Rainbow Sprinkle Cake
Trixie's Toffee Crunch
Autumn Harvest Cheesecake (Fall)
Paradise's Pina Colada Sorbet (Summer)
Amelia's Sweet Almond
Flossie's Root Beer Float
Hazel's Mootella